This week, Dominion Voting Systems settled its $1.6 billion lawsuit with Fox News for $786 million on the morning the trial was about to begin.
Dominion charged Fox had knowingly aired false and defamatory statements about Dominion's role in the 2020 election, including that Dominion machines had been used to steal the election away from the former president.
The first amendment protects the right to free speech. To win a lawsuit like this, the plaintiff needs to prove not only that false statements were made, but that they were made with actual malice. In most cases, this is impossible to prove, but here there were statements made by Fox on-air personalities and owner Rupert Murdoch that indicated they knew what they were saying was false. If ever there was a case that could pass muster in this area, this was it.
So why did Dominion settle? There was no guarantee a jury would find Fox guilty and, if they did, that the settlement would be this large. Even if Dominion won, there would likely be costly appeals and delays. One could also argue they proved their point by publicly exposing what went on behind the scenes at Fox.
Some are saying Fox got off easy. Yes, this was the largest known settlement in this type of case, but Fox revenues are nearly $3 billion per quarter–this won't bankrupt them.
However, this is just the tip of the iceberg. Another voting machine company has an upcoming suit against Fox, and they can use all of the material from this case in their suit. Furthermore, Dominion has pending lawsuits against other right wing media outlets, as well as some of the individuals who made the defamatory statements, like Rudy Giuliani and Sydney Powell.
In the end, who won? Did truth prevail? Fox outlets buried the story, but it's unlikely their core viewers would want to hear it anyway. Perhaps for an organization with as deep pockets as Fox, the lesson is lost. But most of the rest of us couldn't afford to absorb a settlement anywhere near this size.
Today, MyPillow CEO Mike Lindell was ordered to pay the $5 million reward he offered for anyone who could debunk his stolen election theories. Someone did prove his information was incorrect, he refused to follow through on his promise, and a court has now ordered Lindell to pay up.
There are repercussions to knowingly spreading false information. What is your organization doing to make sure you're not caught in the proverbial henhouse? No better time to clean up your act than now.
---
Check out our marketing thought leadership podcasts and the video trailer for my book, Marketing Above the Noise: Achieve Strategic Advantage with Marketing that Matters.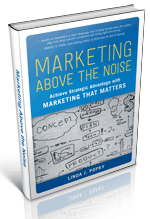 .
---
Let us help your business rise to the top.
linda@popky.com
(650) 281-4854
www.leverage2market.com