Last Wed, I had surgery on my right knee to fix a torn and disconnected meniscus (Disclaimer: That's why there was no Top of Mind Thursday last week).
All went well, and I am recovering nicely–but much more slowly than I anticipated. It takes much longer to get from Point A to Point B, and my single flight of stairs has grown to be as difficult to navigate as Mount Everest.
A few lessons from my recent experiences:
It really takes a village. When some of your abilities are taken away–even for a short time–it becomes apparent how much we need to rely on others to help out.
Pre-planning is necessary, but not sufficient. Knowing this was coming, I tried to be as prepared as possible, but still there were things that didn't work as planned: The surgery was delayed for hours, my mobility was more limited than I expected, etc.
Priorities need to change in real time, based on what really needs to be done, vs. what we thought we could accomplish.
Don't believe the most optimistic predictions. It would have been wonderful if I could have immediately hopped up and down the stairs, like I did last time I was on crutches 35 years ago, but in real life, things don't happen that way.
The better shape you're in to start, the easier these things are. This was the main argument from my surgeon about why to do this surgery now, vs. putting it off a couple of years. Though I wasn't terribly out of shape, I could have started from a better point.
Progress comes in bits and pieces. You take what you can get and build upon it.
All these points apply beyond this situation to our personal and business lives. We can't know what unexpected situations life will throw at us, but we can be pretty sure there will be something sooner or later.
Are you as prepared as you can be for what might be lurking around the corner? Time to get in great fighting shape now, to be better able to handle those bumps and bruises that might hit when we least expect them.
---
Check out our marketing thought leadership podcasts and the video trailer for my book, Marketing Above the Noise: Achieve Strategic Advantage with Marketing that Matters.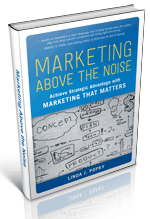 .
---
Let us help your business rise to the top.
linda@popky.com
(650) 281-4854
www.leverage2market.com