This week, household retailer Bed, Bath & Beyond filed for bankruptcy.
This was not unexpected, as the company had been fighting declining sales and limited financing for several years. Less inventory in the stores led to fewer sales, which in turn aggravated the cash flow situation.
This was a chain that for many years had a legion of devoted fans. There was a time when one could find almost any kitchen gadget or bath accessory imaginable at a BBB. There were lists to help college students set up dorm rooms and registries to allow newly-married couples to furnish their new abodes.
But then new management decided to invest in stock buybacks, rather than merchandise, and to eliminate the well-known 20% off coupons shoppers had come to expect. For years, the store had even ignored expiration dates–accepting coupons that were several years out of date.
Was it a good idea to get shoppers hooked on 20% off any item at BBB? Maybe not. But once that pattern was established, eliminating the coupons didn't win back consumers or increase sales.
Interestingly, several competitors are now accepting BBB coupons (even the expired ones!) in an effort to woo the chain's shoppers to their own stores. Without BBB in the picture, shoppers will need to make new choices.
Is your business making decisions that will strengthen customer loyalty and drive new buyers to you? Or is a focus on the customer above and beyond your thinking?
---
Check out our marketing thought leadership podcasts and the video trailer for my book, Marketing Above the Noise: Achieve Strategic Advantage with Marketing that Matters.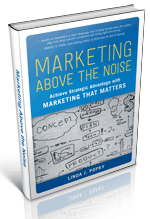 .
---
Let us help your business rise to the top.
linda@popky.com
(650) 281-4854
www.leverage2market.com