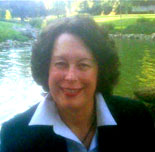 Lucie Newcomb
President and CEO
The NewComm Global Group, Inc.
www.NewCommGlobal.com
Lucie Newcomb has more than 25 years experience in successful marketing and international business development for corporations, start-ups, and non-profit organizations. Her expertise in emerging markets and experience on four continents, includes leading the market entry and establishment of a leading Johnson & Johnson company in Africa.
In this podcast, Lucie talks about how the global business environment has changed over the last few years and why it's even more important than ever to capture the voice of the global customer.
---

Listen to this podcast.
---