Marketing Leverage Times – Winter 2012
---
ON OUR SITE:
About Us • What We Do • How We Help • Marketing Resources • Testimonials
For Enterprises • For Sm/Med Businesses • For Start-Ups • For Consultants • For Non-Profits
---
Welcome to the latest edition of the Marketing Leverage Times. Our goal is to provide you with provocative information and thought-provoking commentary on marketing and business issues. We hope you'll enjoy this regular collection of tips, tidbits and tools and we welcome your input and feedback.

---
FOLLOW US ONLINE:
On Twitter @popky • On LinkedIn • Leverage2Market on FaceBook • Linda on FaceBook
Marketing Leverage Blog • Marketing Thought Leadership Podcast • On YouTube
---
The LinSanity of Tebowing: Why It Matters to Business
Nothing captivates your full attention like coming down a Colorado ski slope at lunchtime and seeing a flash mob of close to 400 adults in front of the ski lodge, simultaneously moving into a position that looks like a cross between genuflection and Rodin's The Thinker – on skis.
That was my first up-close interaction with the Tebowing phenomenon (with a bastardized version of the music from "St. Elmo's Fire" playing in the background, no less).
No sooner did the Broncos lose that January playoff game and Tebowing quickly faded away , when up popped LinSanity – based on the sudden rise of Jeremy Lin of the New York Knicks.
---
New JumpStart Facilitated MasterMind Program…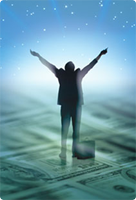 Like to have your own personal team to guide you through difficult times, sharing their insights and helping you to stay on track? Thinking about hiring a coach but not sure if that's the right path for you?
This year we're offering a new option that combines some of the best elements of mastermind groups with group and 1:1 coaching to keep you on track for success.
Our new JumpStart program is geared towards new and established consultants. It's based on groups of no more than 8 people for a four month period and includes a total of 6 sessions: two in-person group breakfasts to start and end the program, as well as three group teleconferences, plus one 1:1 call with Linda midway through the program, plus ongoing email support, online community and biweekly discussion emails.
The first session will kick off in early April. Discounts are available for members of the Leverage2Market community.
---
Take Just a Moment for Marketing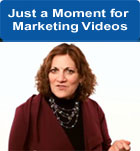 …with our new short video series, Just a Moment for Marketing
In less than 90 seconds, we'll give you a useful marketing tip or insight. New videos will be posted regularly.
---
Consulting Triple Play Workshop Coming This Fall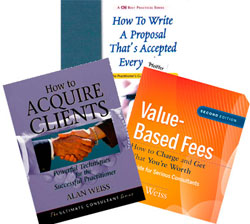 We're excited to bring the Consulting Triple Play workshop, based on the material of Million Dollar Consultant® Alan Weiss, to the Bay Area on October 2nd.
Combining three core programs (How to Acquire Clients, Value-Based Fees, and How to Write a Proposal That's Accepted Every Time) into one full-day value-packed session, this special workshop cuts to the essence of successful consulting, providing participants with the foundation required to drive business growth. It's intended for consultants who want to jumpstart their practice or increase momentum, by providing the tools needed to realize rapid ROI.
Register before June 1st to receive the early bird discount. Plus the first 10 registrants receive free copies of the three Alan Weiss books upon which the workshop is based.
---
What Marketing Leaders Are Saying
Listen to Our Podcast Series
Check out the latest episodes in our podcast series, Marketing Thought Leadership:
Kelli Richards on how social media has changed marketing for the music industry
Kathryn Ullrich on taking control of your own career success
David Uribe on digital marketing in Latin America
Suggestions for speakers or topics? Let us know.
---
In the News

Linda was pleased to serve on the core planning committee for the second annual TEDxBayArea Women's Conference, Celebrating Global Women Entrepreneurs, held at Cisco headquarters in San Jose on December 8.
In January, Linda presented to the SVForum Marketing SIG on Marketing Brand You: Managing Your Career/Business in a Social-Centric World.
Linda was quoted in the January Society for Advanced of Consulting news release about consultants highlighting top 2012 business trends.
For the third year in a row, Linda has been asked to judge the New Mexico Press Women's Contest. In addition, Linda has just served as a judge for the BMA-Milwaukee Chapter Bell Awards competition.
---
Upcoming Events
Audience Insight Course – WVU Integrated Marketing Communications program – Starts March 12- Learn More
Social Media Marketing Classes – Integrating Social Media Into the Overall Marketing Strategy – San Francisco State – Starts April 20 Learn More
Occupy Your Brand: Managing Your Career in a Social-Centric World – ProMatch, Sunnyvale, CA., – May 24
The Almost Free Workshop with Million Dollar Consultant® Alan Weiss and his Master Mentors – Los Angeles, CA. – June 7 Register online.
Consulting Triple Play: How to Acquire Clients, Charge Value-Based Fees, and Write Proposals that are Accepted Every Time – San Francisco Bay Area, October 2 Register online.
We are in the process of booking our Spring and Fall speaking schedule. If your business or association could use a dynamic, thought-provoking presentation or workshop on marketing or business strategy, please contact us at info@Leverage2Market.com.
Download our Speaker Sheet.
Remember: Our workshops and seminars are available to individuals and corporate groups. Contact us at info@leverage2market.com for more information.
---
We Grow Through Referrals
Our goal is to offer the value we provide to as many people and organizations as we can. Our business is 100% referral-based, which means we rely on people like you to tell others about the types of results they can get from working with us.
If you know an organization that could benefit from more impactful marketing programs, processes, or people, please let us know.
---
Please feel free to forward this newsletter to others you think may enjoy it. To be added to our subscription list, please
subscribe
here.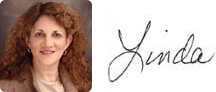 Linda Popky
President, Leverage2Market Associates, Inc.
One of Silicon Valley's Top Women of Influence
Member, Million Dollar Consulting® Hall of Fame, Certified Master Mentor
Email: linda@popky.com
Phone: 650-281-4854
Fax: 650-780-0386
Web: www.Leverage2Market.com