Small and medium sized businesses have big marketing needs, but limited marketing resources.
You likely have goals for growth and great ambitions for your business—even if you're not the biggest player in the market. It's important that your customers feel as confident about you as they do with larger companies, but it's also critical that they understand the unique value they can get from an organization your size.
At Leverage2Market® Associates, we understand how to leverage each and every dollar available to put your business on track, even without extensive marketing budgets or big teams of dedicated personnel. We know it's not how much you spend, but how effective your initiatives can be. That's why you want to avoid the waste that comes with big company budgets by focusing on the marketing initiatives that can drive the most powerful results.
We work with companies like yours to put together marketing programs that are strategic and impactful. We can help with market sizing and strategic offerings, product launches and communications programs, messaging and web presence. We also offer coaching and mentoring for business owners and marketing executives.
We'll often steer you away from what everyone else is doing—and develop a strategy that helps you stand out from the crowd. We know that it's not how much you spend, it's how well you meet your business objectives.
"Linda helped design and implement a great direct mail campaign for me with results that blew us away. Her direction, marketing smarts and leadership helped make the campaign a home run. She is a marketing maven!"
Joel B. Spolin
President
SpoLoan Mortgage Banking


---
Could you use a trusted advisor? Learn more about our advisory services.
---
Resources for Small & Medium Businesses
» Key Factors that Determine Your Online Reputation
» Market Leverage Factors: Launching a Marketing Campaign
» Market Leverage Factors: Brand Review and Refresh
» Tips for More Effectively Marketing in a Down Economy (PDF)
---
Teleseminars for Small & Medium Businesses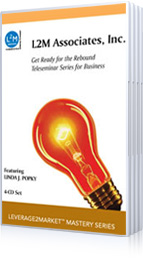 Ready for the Rebound
Small & Medium Business Teleseminar Series