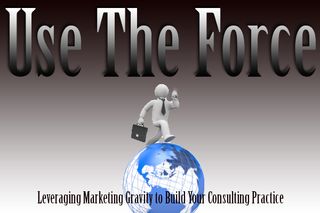 Tuesday, April 8, 2014
Mountain View, CA
You're good at what you do. Clients and customers like you. Why don't you have the nature and value of business you deserve?
This one-day workshop is designed to help you create and master the marketing activities that will help you take your business to the next level by bringing clients and prospects to you, rather than you having to chase business on an ongoing basis.
This workshop combines material from Million Dollar Consultant Alan Weiss, with that of award-winning marketing expert Linda Popky.
You'll learn:
How to identify the key aspects of a marketing program and use them to create marketing gravity
How to build and leverage an accelerant curve
Five top market leverage factors that can differentiate your business
Why it's critical to build discipline into your marketing programs
The power of branding yourself as an expert vs. a consultant
This material has not been offered previously in one single workshop. There is nowhere else you can be exposed to all of this information in one place, in one day.
The program will be delivered by Linda Popky, a Master Mentor and member of Alan Weiss' Million Dollar Consultant® Hall of Fame, and the first marketing professional worldwide authorized to offer Alan Weiss's programs and materials.
It's designed for consultants and professional services providers who may not be marketing experts, but who want to learn how to leverage their limited marketing resources as effectively as possible to build their businesses.
Continental breakfast, lunch, and refreshment breaks are included.
All attendees will receive a copy of Linda Popky and Robbie Kellman Baxter's eBook Disciplined Marketing.
Sign up by the March 1 Early Bird Deadline to receive a copy of Alan Weiss's book How to Establish a Unique Brand in the Consulting Business.
Special Discounts for members of the Leverage2Market Community, as well as WIC members and partipants in the Alan Weiss Private Roster Mentor Program