I'm on vacation in Maui this week. In some ways things haven't changed much since my last trip almost 2 years ago. But in other ways, things look very different.

I'm struck with the number of empty storefronts and boarded up kiosks. One of our favorite women's clothing stores has downsized from four stores to one. Hilo Hatty, a mainstay in the islands for Hawaiian wear and kitchsy gifts for over half a century, has shrunk to only 20% of their former space.
When we ask why, we're told rents are being raised to a level that businesses can't afford. Living in the Bay Area, I can certainly understand this kind of real estate crunch, especially when determining the cost of selling a house. But the difference is that here entire sections of towns and malls sit empty and boarded up. The vacancy rate in San Francisco is close to zero–here, more than a year later, the 80% of Hilo Hatty's not being used still sits empty.
The trend to raise prices as high as possible has hit Maui. Maybe upscale stores will come in and eventually fill some of the space. But is it really wise to drive away the local businesses that have been part of the landscape for decades? Seems like a little bit of the flavor of the island has been washed out with the tide.
To subscribe, please click here.
Ready to take your marketing to the next level? Contact me to find out how to get heard above the noise
---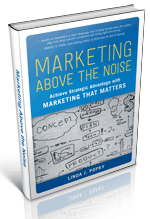 Check out the new video trailer for my book, Marketing Above the Noise: Achieve Strategic Advantage with Marketing that Matters.
---
Limited time to devote to marketing? Check out our weekly Just a Moment for Marketing videos. They only take a minute.
Let us help your business rise to the top.
linda@popky.com
(650) 281-4854
www.leverage2market.com