Holiday travel is known to be fraught with challenges. This year's set of intense storms, coinciding with peak travel days, was sure to throw kinks into the system.
But no one expected the total meltdown experienced by Southwest Airlines.
At one point, nearly 70% of Southwest flights were cancelled. Passengers were left stranded far from their destinations, and told the next available flights might be days away. Some couldn't retrieve their checked luggage. The phone system had a wait time that stretched into hours.
In our case, my daughter's 40 minute flight from LA to San Jose was followed by over an hour of sitting on the tarmac because there were no gates available to deplane. By itself this was not such a terrible thing, but consider that this flight was full of deadheading crew trying to get to San Jose to man their next flights. Wouldn't you think it would be a priority to get the plane full of flight crew to a gate quickly, so they could get the next round of flights in the air?
Every airline on the planet was impacted by the weather, but all of the others managed to work their way through it with only minor delays. However, it appears that Southwest's reservations and operations infrastructure is mightily outdated. This is the only major airline not to have a way to track checked baggage, for example. When weather impacted so many flights simultaneously, everything just fell apart. It may take days or weeks to get it back up and running smoothly. (We're not taking any chances–we've booked a return flight on another airline.)
Failures like this don't happen overnight. There were likely plenty of red flags that upgrades were needed, but they were ignored. It's often too easy to keep the status quo, instead of taking the necessary steps to be properly prepared for the future.
As we enter a new year, this is a great time to take stock of your own business. What systems and processes that worked well in the past might not do so in the future? How might things need to change to be effective in a post-pandemic world? What investments do you need to make now to avoid a Southwest-style snafu?
Wishing you a happy, healthy, safe, and prosperous 2023, with calm skies and safe, on-time landings.
---
Check out our marketing thought leadership podcasts and the video trailer for my book, Marketing Above the Noise: Achieve Strategic Advantage with Marketing that Matters.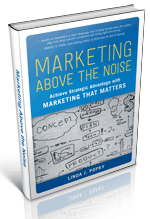 .
---
Let us help your business rise to the top.
linda@popky.com
(650) 281-4854
www.leverage2market.com