Yesterday, Ukrainian President Volodymyr Zelensky made a surprise visit to Washington, DC–meeting with President Biden at the White House and speaking before a joint session of Congress.
His speech to Congress thanked Americans for their help and included references to other key conflicts in our history, including WWII and the Revolutionary War. He talked about how American support was helping keep Europe safe and strong, and how the money sent to Ukraine is not charity, but an investment in the future of a free world.
Today is the fourth day of Hanukkah–the holiday that celebrates the Maccabee victory over the Greek invaders. The oil to light the lamps in the Holy Temple that should have lasted only one day instead lasted eight, and the Macabees successfully fought off the intruders.
What an appropriate connection. The nation of Ukraine was expected to fall to the Russian invaders within a week, but instead–like the light of the menorah–10 months later, Ukraine is still standing strong and beating back the enemy.
Zelensky talked about the will of the Ukrainian people to keep fighting for their freedom and their refusal to accept anything less than victory. Like the Macabees two thousand years ago, they will not let the light burn out, but instead continue to bravely fight on for their right to exist as a free people.
As we celebrate the holiday season, let this be a lesson to all of us. We don't have to heal the world all by ourselves. We just need to keep a small flame burning, one day at a time.
Wishing you a happy, healthy, and meaningful holiday season. Let us each be the light that carries peace and prosperity forward.
---
Check out our marketing thought leadership podcasts and the video trailer for my book, Marketing Above the Noise: Achieve Strategic Advantage with Marketing that Matters.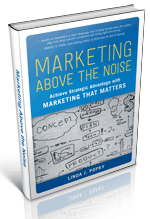 .
---
Let us help your business rise to the top.
linda@popky.com
(650) 281-4854
www.leverage2market.com