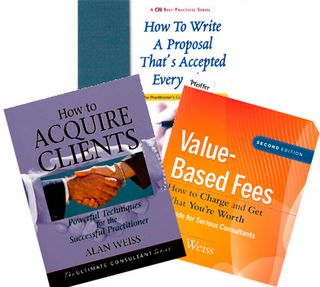 Back by Popular Demand!
 October 15, 2013 in Mountain View, CA
Closing new clients. Getting the top fees for our work. Generating proposals that are accepted every time.
These are three of the top issues facing most consultants. But we're all so busy we don't have the time to consider how to make dramatic improvements in these areas.
What if you could get tried and tested advice on how to improve in all three of these areas…and you could get it all in one, single day, here in the Bay Area?
That's the unique offer I'm making to you.
On October 15th, I will again be offering the popular one-day Consulting Triple Play workshop in Silicon Valley, focusing on three of the most popular topics from Million Dollar Consultant Alan Weiss: How to Acquire Clients, Value-Based Fees, and How to Write a Proposal That's Accepted Every Time. As an added bonus,  I'll be including my own tips on branding for consultants, too.
This special workshop cuts to the essence of successful consulting, giving participants the foundation you'll need to drive business growth. Whether you want to jump start your practice or increase your momentum, this day will provide you with the tools you need to realize rapid ROI on your efforts.
This workshop is ideal for people in the consulting, coaching, speaking and related professions who want to dramatically accelerate business and find new markets.
Here's the best part. Because I've seen such great results from people who have adopted this approach and I'm passionate about getting this out to as many consultants who are serious about growing their business as possible, I've reduced the price for this workshop to members of my community. 
With Early Bird discounts, this event is only $295 – which is literally a steal for this much value and information!
Deadline for this special promotion is September 1st
Register here. 
As an extra bonus, if you register by that date you'll also receive a free copy of three of Alan's books, related to these three topics.
I look forward to seeing you, or one of your colleagues, at this event. Please feel free to forward this to those who would benefit from attending.
Space is extremely limited for this event, and is available on a first come, first serve basis.