Today, Liz Truss, Prime Minister of the UK, resigned after only 6 weeks on the job.
Those of us in the US are used to having to wait anywhere from two to six years to remove politicians from office–depending on whether they are representatives, presidents, or senators. But in the UK and other parliamentary democracies, a change in power can happen very quickly.
Truss was likely the wrong person in the wrong place at the wrong time. Just two days after her initial meeting with Queen Elizabeth, the Queen died–throwing England, the Commonwealth, and much of the world into a state of mourning. Then Truss promoted extremist policies that were not well-received by the financial markets or her constituents.  Aides and appointees began to quit and the whole thing unraveled rapidly.
It will be interesting to watch what happens next. Will someone new be brought in to sort out this mess–or will former PM Boris Johnson come back for another round? And how much long-term damage has this episode caused to the country?
As tough as this situation is, it's refreshing to see a bad decision acknowledged and dealt with quickly. How many times do we know in our gut something's not right, but we continue down the same path for quite awhile longer–either because we want to confirm our suspicions, or because we've already made an investment we don't want to write off?
Sometimes, it's better to say so long quickly and move on.
---
Check out our marketing thought leadership podcasts and the video trailer for my book, Marketing Above the Noise: Achieve Strategic Advantage with Marketing that Matters.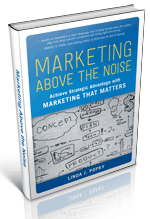 .
---
Let us help your business rise to the top.
linda@popky.com
(650) 281-4854
www.leverage2market.com