Marketing Leverage Times – Summer 2013
---
ON OUR SITE:
About Us • What We Do • How We Help • Marketing Resources • Testimonials
For Enterprises • For Sm/Med Businesses • For Start-Ups • For Consultants • For Non-Profits
---
Welcome to the latest edition of the Marketing Leverage Times. Our goal is to provide you with provocative information and thought-provoking commentary on marketing and business issues. We hope you'll enjoy this regular collection of tips, tidbits and tools and we welcome your input and feedback.

---
FOLLOW US ONLINE:
On Twitter @popky • On LinkedIn • Leverage2Market on FaceBook • Linda on FaceBook
Marketing Leverage Blog • Marketing Thought Leadership Podcast • On YouTube
---
In Most Places, This Story Wouldn't Fly
Picture this scene.
A large group of passengers is gathered in an airport terminal, waiting breathlessly to hear what's being announced at the podium. The speaker stops and the passengers erupt in spontaneous applause…for an airline employee!
This is neither a figment of my imagination nor a scene from a movie.
---
Top of Mind Thursday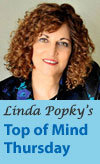 New!
Top of Mind Thursday newsletter"Quick, concise, and to the point."
"Great insights."
"I look forward to seeing this each week."
These are typical of the comments we're receiving about our new weekly communication, Top of Mind Thursday. Look for this each Thursday morning. If you're not getting this, subscribe now. Or, tell us who else should be receiving this, too.
---
Consider an Advisor
Wouldn't it be nice to have a third party objective resource? How about a sounding board for reviewing plans, an idea source for planning implementation, a responsive expert for questions and advice, a support system for accountability, or just a devil's advocate to review potential key decisions?
Over the last 20 years, executives in a wide range of organizations, from Fortune 500 companies to startups, have relied on Linda Popky as a trusted advisor.
We offer three types of Advisory Services:
Executive Advisor – for senior-level corporate executives
Startup Advisor – for executives at start-up and emerging companies
Consultant Advisor – for consultants and professional services firms
Contact us for more information.
---
Take Just a Moment for Marketing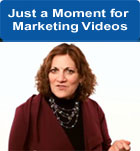 …with our new short video series, Just a Moment for Marketing
Just a Moment for Marketing videosIn less than 90 seconds, we'll give you a useful marketing tip or insight. New videos will be posted regularly.
---
Consulting Triple Play Workshop Coming This Fall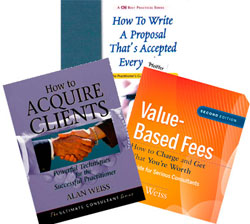 Back by Popular Demand:
Our popular workshop, Consulting Triple Play: How to Acquire Clients, Charge Value-Based Fees, and Write Proposals that are Accepted Every Time, will be held again in October in Mt. View, CA.
This workshop gives you the gist of three of the most powerful concepts of Million Dollar Consultant® Alan Weiss in one single power-packed day.
Members of the Leverage2Market community are eligible for registration discounts (as well as an Early Bird registration discount).
Contact us for more information.
---
Disciplined Marketing for Building A Professional Services Practice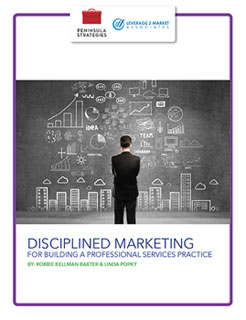 Now Available:
Disciplined Marketing offers simple, effective advice for consultants and professional services firms who are looking to take their marketing to the next level. Created by Linda Popky and Robbie Kellman Baxter, Disciplined Marketing leverages the work we've done with a broad range of clients to help professional services firms create and execute the marketing programs they need to be successful.
Download the new e-Book. Use the discount code DMFREE4ME.
Missed the teleseminar? Download the MP3 recording. Use the discount code DMFREEAUDIO.
Learn more about Disciplined Marketing.
---
What Marketing Thought Leaders Are Saying

Check out the latest episodes in our podcast series, Marketing Thought Leadership.
Malcolm de Leo on how social media monitoring is transforming the customer listening process
Charmaine Hammond on how to build business for your book
Lisa McLeod on why selling is a noble purpose
Richard Martin on what marketers can learn from the military
Suggestions for speakers or topics? Let us know.
---
In the News

Linda edited the forthcoming book Alan Weiss on Consulting: A guided journey with "the rock star of consulting," to be published August 15th. The book is now available with a pre-publication discount. Learn more.
Linda facilitated a panel on Enabling Communities Through Collaborative Tools for the Silicon Valley IABC in May.
In June, Linda presented the workshop Sealing the Deal in the Bay Area. She also interviewed Million Dollar Consultant® Alan Weiss on the process of reinvention for Alan's 2013 Teleconference series.
Linda has been selected to be a guest career coach columnist in August for the womenworking.com website. More information.
---
Upcoming Events
The ABCs of LGBT Inclusion for Successful Leaders and Organizations: An interview with diversity expert Simma Lieberman – teleseminar, July 16th, 11am PDT.
Stop Marketing and Win Business: What's Missing from Today's Marketing Campaigns: NorCal BMA Marketing Strategy Roundtable – Palo Alto, CA , July 23
Disciplined Marketing Workshop – with Robbie Kellman Baxter, at the Alan Weiss Mentor Summit, Kiawah, SC., September 18
Consulting Triple Play Workshop – Mountain View, CA, October
We are in the process of booking our Fall speaking schedule. If your business or association could use a dynamic, thought-provoking presentation or workshop on marketing or business strategy, please contact us at info@Leverage2Market.com.
Download our Speaker Sheet.
Remember: Our workshops and seminars are available to individuals and corporate groups. Contact us at info@leverage2market.com for more information.
---
We Grow Through Referrals
Our goal is to offer the value we provide to as many people and organizations as we can. Our business is 100% referral-based, which means we rely on people like you to tell others about the types of results they can get from working with us.
If you know an organization that could benefit from more impactful marketing programs, processes, or people, please let us know.

---
Our List
You are receiving this newsletter because you have been identified as someone who may be interested in receiving communications related to marketing strategy from Linda Popky and/or Leverage2Market Associates. We do not ever sell, rent, lease, or otherwise distribute our mailing list. If you would like to be removed from this list, please unsubscribe here.
---
Please feel free to forward this newsletter to others you think may enjoy it. To be added to our subscription list, please subscribe here.
For more information on how to get more powerful performance from your marketing investment, contact us.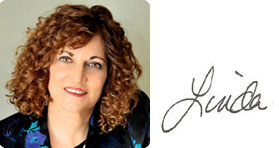 Linda Popky
President
Leverage2Market Associates, Inc.
One of Silicon Valley's Top Women of Influence
Member, Million Dollar Consulting® Hall of Fame, Certified Master Mentor
Email: linda@popky.com
Phone: 650-281-4854
Fax: 650-453-3661
Web: www.Leverage2Market.com