Marketing Leverage Times – Fall 2013
---
ON OUR SITE:
About Us • What We Do • How We Help • Marketing Resources • Testimonials
For Enterprises • For Sm/Med Businesses • For Start-Ups • For Consultants • For Non-Profits
---
Welcome to the latest edition of the Marketing Leverage Times. Our goal is to provide you with provocative information and thought-provoking commentary on marketing and business issues. We hope you'll enjoy this regular collection of tips, tidbits and tools and we welcome your input and feedback.

---
FOLLOW US ONLINE:
On Twitter @popky • On LinkedIn • Leverage2Market on FaceBook • Linda on FaceBook
Marketing Leverage Blog • Marketing Thought Leadership Podcast • On YouTube
---
The Real Danger of Black Friday/Cyber Monday Madness
The post-Thanksgiving shopping frenzy started early this year, with some stores actually holding Black Friday sales on Thanksgiving evening. Just to complicate things, online merchants started holding Black Friday events, and some brick and mortar stores held Cyber Monday sales. And in the ultimate confusion, Honda is having two full weeks of Black Friday sales events…huh?
But that's not the real danger of all this madness.
---
Top of Mind Thursday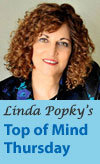 New!
"Quick, concise, and to the point."
"Great insights."
"I look forward to seeing this each week."
These are typical of the comments we're receiving about our new weekly communication, Top of Mind Thursday. Look for this each Thursday morning. If you're not getting this, subscribe now. Or, tell us who else should be receiving this, too.
---
Consider an Advisor
Wouldn't it be nice to have a third party objective resource? How about a sounding board for reviewing plans, an idea source for planning implementation, a responsive expert for questions and advice, a support system for accountability, or just a devil's advocate to review potential key decisions?
Over the last 20 years, executives in a wide range of organizations, from Fortune 500 companies to startups, have relied on Linda Popky as a trusted advisor.
We offer three types of Advisory Services:
Executive Advisor – for senior-level corporate executives
Startup Advisor – for executives at start-up and emerging companies
Consultant Advisor – for consultants and professional services firms
Contact us for more information.
---
Take Just a Moment for Marketing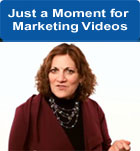 …with our new short video series, Just a Moment for Marketing
Just a Moment for Marketing videosIn less than 90 seconds, we'll give you a useful marketing tip or insight. New videos will be posted regularly.
---
Now Available: Night Songs
Linda's Classical Piano Album
Night Songs, an album of Linda Popky playing classical piano pieces, is now available. This collection of short lyrical classical pieces features Linda on piano is available in both MP3 files and as a physical CD. Proceeds benefit JDRF, the Juvenile Diabetes Research Foundation.
More information is available at LindaPlaysPiano.com.
---
What Marketing Thought Leaders Are Saying

Check out the latest episodes in our podcast series, Marketing Thought Leadership.
Chad Barr on creating provocative content
Jeff Weinberger on how strong customer relationships can be a competitive differentiator
Terri Griffith on leading by letting go
Wes Trochlil on the opportunities to leverage big data
Roberta Matuson on the impact of leaders on employee brand engagement
Libby Wagner on the linguistics of leadership
Suggestions for speakers or topics? Let us know.
---
In the News

Linda interviewed diversity expert Simma Lieberman on the ABCs of LGBT Inclusion for Successful Leaders and Organizations.
In July, Linda presented Stop Marketing and Win Business: What's Missing from Today's Marketing Campaigns for the NorCal BMA Marketing Strategy Roundtable.
The book Alan Weiss on Consulting: A guided journey with "the rock star of consulting," edited by Linda, is now available. More information.
Linda presented the Consulting Triple Play workshop in the Bay Area and a workshop on Disciplined Marketing at the Alan Weiss Mentor Summit in Kiawah, SC.
Linda has joined the Strategic Development Board for Watermark, the organization for exceptional executive women.
Once again, Linda participated in this Crestmont Conservatory Piano Marathon on Sunday, November 3rd Her program included works by Bach, Beethoven, Brahms, Grieg, Tchaikovsky, and Ginastera.
---
Upcoming Events
Marketing Presentation: Million Dollar Consulting College – December 12, 2013
Fast Forward in '14: Top of the Year Teleseminar – January 9th, 11am
SVForum Marketing SIG Presentation – January 13, 2014
Marketing Magic for Consultants Workshop – Mountain View, CA, Spring
We are in the process of booking our Winter and Spring speaking schedule. If your business or association could use a dynamic, thought-provoking presentation or workshop on marketing or business strategy, please contact us at info@Leverage2Market.com.
Download our Speaker Sheet.
Remember: Our workshops and seminars are available to individuals and corporate groups. Contact us at info@leverage2market.com for more information.
---
We Grow Through Referrals
Our goal is to offer the value we provide to as many people and organizations as we can. Our business is 100% referral-based, which means we rely on people like you to tell others about the types of results they can get from working with us.
If you know an organization that could benefit from more impactful marketing programs, processes, or people, please let us know.

---
Our List
You are receiving this newsletter because you have been identified as someone who may be interested in receiving communications related to marketing strategy from Linda Popky and/or Leverage2Market Associates. We do not ever sell, rent, lease, or otherwise distribute our mailing list. If you would like to be removed from this list, please unsubscribe here.
---
Pass This On
Please feel free to forward this newsletter to others you think may enjoy it. To be added to our subscription list, please subscribe here.
For more information on how to get more powerful performance from your marketing investment, contact us.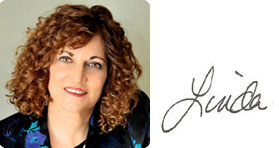 Linda Popky
President
Leverage2Market Associates, Inc.
One of Silicon Valley's Top Women of Influence
Member, Million Dollar Consulting® Hall of Fame, Certified Master Mentor
Email: linda@popky.com
Phone: 650-281-4854
Fax: 650-453-3661
Web: www.Leverage2Market.com