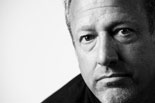 Jeff Eagle
Principle and Creative Director
Eaglevision Productions
www.eaglevsn.com
Over the past 20 years, Jeff Eagle has created scores of memorable events and media for a wide array of enterprises, leveraging his ability to take complex client messaging and create compelling stories that educate, inform and inspire. He has worked with such companies as Hilton Hotels, Sony, Verisign, Agilent Technologies, Hewlett-Packard, Apple Computer, Adobe Systems and Cisco Systems.
In this podcast, Jeff discusses the new role of video in marketing organizations, talks about how marketers can be successful in today's video-rich environment, and tells us about the sophisticated, professional, but inexpensive video templates now available.
---

Listen to this podcast.
---