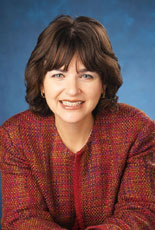 Colette Chandler
The Marketing Insider, Inc.
www.marketing-insider.com
Colette Chandler is the leading expert in helping companies better understand environmental and health trends and the consumers driving them. Her company conducted groundbreaking research in the Midwest that aided companies in better understanding the attitudes, behaviors and purchasing decisions of consumers as it relates to the environment, natural health and wellness.
In this podcast, Colette tells us why creating authentic green value should be an integral part of every organization's marketing strategy.
---

Listen to this podcast.
---