This weekend marks the end of Bruce Bochy's tenure as manager of the San Francisco Giants.

During his 12 seasons with the club, Bochy managed the team to three World Series wins: 2010, 2012, and 2014. He has the second-most wins of any Giants manager, and recently notched his 2000th managerial win.
More interestingly, in an era when managers and coaches are fired almost on a whim, in 25 years of managing, Bochy has never been fired–even when his team didn't have a winning season. In fact, Boch is only the 5th major league manager to manage for an uninterrupted quarter of a century.
Team management gave him leeway to manage the team as he chose. Players respected his managerial style and the way he supported them Even when it was apparent the team was not headed to the post-season, Bochy never ceded ground–he wanted to win every game he could. Many players say he is responsible for finding ways to turnaround games that seemed unwinable at the start.
Bruce Bochy's career will end on Sunday, but his legacy will not. It's widely expected he will enter the Hall of Fame for his managerial accomplishments.
From those of us who had the pleasure to watch you, thanks Boch! You'll be missed!
How do you act in a climate of change? Read my article.
Join me for the free online video interview series The Inspired Leadership Show: Discovering Secrets to Being an Effective Leader Through Communication, Positive Influence and Sustainable Productivity. My episode is live NOW!
Contact me to find out how to get heard above the noise.
---
Check out our marketing thought leadership podcasts and the video trailer for my book, Marketing Above the Noise: Achieve Strategic Advantage with Marketing that Matters.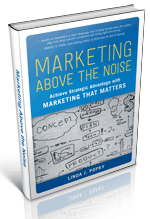 .
---
Let us help your business rise to the top.
linda@popky.com
(650) 281-4854
www.leverage2market.com