My mother, Janet Popky, passed away early last Friday morning after a short illness. Although she had short-term memory loss for a number of years, she really had quite a good, happy life until she got seriously ill two weeks earlier.

The last few weeks have been a whirlwind–last minute flights, hospital ICUs, and a funeral on Monday. But amidst all of this, we have been heartened by all the people whose lives she touched, and the family and friends who have stopped by to comfort us with thoughts and memories.
These are the remarks I made at her funeral. We made people laugh, which would have been exactly what she would have wanted.
Are your customers being served? How sure are you about that? Read my article.
Join me for the free online video interview series The Inspired Leadership Show: Discovering Secrets to Being an Effective Leader Through Communication, Positive Influence and Sustainable Productivity. My episode is live NOW!
Contact me to find out how to get heard above the noise.
---
Check out our marketing thought leadership podcasts and the video trailer for my book, Marketing Above the Noise: Achieve Strategic Advantage with Marketing that Matters.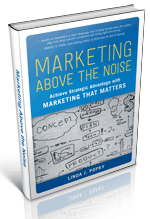 .
---
Let us help your business rise to the top.
linda@popky.com
(650) 281-4854
www.leverage2market.com