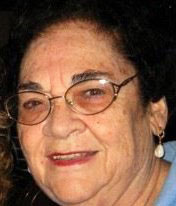 My mother, Janet Popky, passed away early Friday morning, May 17th. These are the thoughts I shared at her funeral on Mon.
She was rooted in Pennsylvania. She never lived anywhere outside of northeastern PA. She and my dad traveled the world, but they always came back.
She was a creature of habit. And that related to everything, even meals. Monday was steak night, Wed was hamburger, and Thursday was something she told us was fish. I say that because after I left home, I learned that what she served on Thursday had very little relation to what they called fish in a restaurant.
She grew up on Irving Avenue in Scranton. My grandparents lived in the same apartment from the day they got married to the day they died. And I think it was only painted maybe once. She was an only child, but she didn't grow up alone—My grandmother's sister Dora and her infant son Marty Bonda moved in with them for 12 years. Marty is 4 years younger than my mother, so he was like her little brother. They had a very close relationship their whole lives, but it appears they didn't always get along. Marty tells me they went to New York once and she tried to leave him in a store, but it didn't work. My grandmother was really angry with her. But evidently not angry enough—because Marty says she tried to do it again!
My sister Judy is almost 11 years younger than me. That's because my mother had a series of miscarriages after I was born. Judy was their last chance to try to have another child. They were so paranoid that something would happen that they didn't do anything baby related for the whole 9 months. When my mother went into labor, my father came home and pulled my old crib out of the basement and reassembled it.
They were so thrilled to be parents again—they went and repeated all the same things they did when I was a kid: PTA, School board, etc. And they were so proud of Judy and all the things she accomplished.
And as thrilled as they were for Judy to come along, they were even more thrilled about being grandparents. Of all the things I accomplished in my life, I think the only one that she cared about was that I gave her a grandchild. She was so thrilled to be a grandmother and she loved spending time with Ilana. Even when she was upset with Judy and me for putting her in assisted living at Elan Gardens, she was always happy to talk to Ilana. And even last week in the hospital, every time she heard Lani's voice, her heart rate went up.
Lani has so many fond memories of trips with Grammy and Granpy to places like Hershey Park, the Crayola Factory, Cooperstown, and too many others to list. Lani's favorite Grammy dinner was spaghetti and meatballs, which she used to call pisgetti. Judy is making Grammy's special pisgetti and meatballs this week in Grammy's honor.
My mother never liked dogs—the joke was she always said it was either her or a dog, and my father would not let us get the dog, or any other pet, not even a goldfish. She reluctantly accepted my first dog, Nikita, but she really was fond of Judy's dog Bailey and we even caught her holding him and petting him when she thought we weren't looking.
For those of you who have been to our house, you know her affinity for elephants. Always with the trunks up, of course, because that meant good luck. It's amazing we never won the lottery, because Lani counted once and quit when she reached 500.
The last ten years or so, her memory declined dramatically. But only the short-term memory. Until a few weeks ago, she could direct you all around the greater Scranton area and be totally right. At her 85th birthday party, her lifelong friend Mary Campo came to her birthday party with a framed photo of a bridal shower they had thrown for a work colleague over 60 years ago. There were at least 10 women in the picture, and my mother looked at it and named every single one. Accurately, said Mary.
My mother was a bookkeeper back before there were PCs or spreadsheets, when bookkeeping meant keeping those big ledgers with columns and columns of numbers. And she was very good at it. So much so, that almost every organization she interacted with as an adult asked her to be the treasurer. In fact, she was the treasurer of the Ohav Zedek Sisterhood for decades. She kept trying to give it up but they could never find anyone as good as her. Finally, when she turned 80, she walked into the shul with all of the checkbooks and ledgers, dumped them there and said, time to get someone else to do it.
She and my dad were the ones who sold the tickets and collected money for the UHI Hebrew School picnic for years. There were two reasons they were chosen for this: First, because everyone knew that my mother's recordkeeping would always be accurate. In fact, Mom refused to leave until the books balanced to every penny, even if that meant staying in the office until midnight. Second, they knew that my parents were infallibly honest and every penny would be accounted for.
That's why we knew we were in trouble about seven years ago when she started bouncing checks. She liked to make small donations to charitable organizations, which meant she got added to more and more lists. And she'd send multiple checks to the same organizations. That wasn't a problem until the month she paid the property tax twice and then all of those little $10 checks to the Heart Association, the Cancer Society, the Jewish War Veterans, etc. all bounced. That's when Judy took over paying her bills.
My dad's death in 2008 was difficult for her, because they had spent so much time together for more than 50 years. We weren't sure how she would do, but we were pleasantly surprised to see her pick herself up and keep busy after he died. She got into activities at the JCC and other places. She wanted to try new things, even though she didn't follow through with most of them. So she wanted to get a WII after we got one, but I don't think she ever used it. And she wanted a Facebook account, which we set up for her, but I doubt she ever went and did anything with it.
She fought me tooth and nail about going to Elan Gardens. She did not want to leave her house. And she was miserable and nasty to us for months for putting her there. Then finally, one day she seemed to accept where she was. She'd tell us, I'd rather be home, but if I can't be home, this is a pretty good hotel to be in.
Once in awhile she'd tell me that there weren't many people around Elan Gardens—it seemed kind of empty. I figured out that meant that one of her recent buddies had moved on, one way or the other.
And as much as she didn't want to go, she thrived at Elan Gardens for 5.5 years. She participated in all the activities, including cards, and bingo (six nights a week!), where she collected every coupon they had for the notions shop with all of her win, But, just like mom, she never wanted to use them so we found about 300 coupons in her apartment to redeem. Although she did handicrafts, like needlepoint and knitting, her whole life, we never knew she could draw till we saw the things she made in art class at Elan Gardens.
Then of course there was mah jong, one of her favorite pastimes. She played every week for decades, with her friends Sandy Himmelstein, Dolly Karassik, Sydel Minkoff, Jean Simon, and Barbara Greenberg—all of whom have likely welcomed her to join their heavenly game. And Ida Miller, who is the only member of that mah jong group still with us.
My cousin Ann Monsky volunteers at Elan Gardens and decided to start a regular mah jong group. She told me they had some challenges—some of the residents had never played before and had trouble understanding the game. Others, had physical limitations and couldn't easily move the tiles. Then, Annie said, there's your mother. Your mother will go from table to table and say, OK, you should make this move next. Now when she does that, you move that tile. Then, you move the other one. And she was absolutely right.
Of course, because of her short-term memory issues, she didn't remember this at all. I'd ask her how was your mah jong game and she'd say, oh, I haven't played mah jong in years, or even, I don't know how to play mah jong.
She always knew what she wanted and even to the end she was clear about that. In the store, she'd find something she liked, like powder blue ankle socks, then every time she went shopping, she bought more of them. I found about a dozen pairs –new—all more or less the same, which I've taken to wear myself. I also found several outfits from Boscov's that she had bought—more than once. She found something she liked, and she knew she liked it and so she went and bought it. And then she forgot, and bought it again.
My mother lived for the deal. Shopping for her was like an Olympic sport—and the chase was as important as the end result. She'd go into someplace like Macy's, find an outfit that had been $90, was marked down, but cost less because it was a special one day sale, and she had a coupon to use. As a result, she would proudly tell us, she got it for only about $17. I don't think she even cared if she wore it, just that she got a great deal.
In fact, we were sure she was going to hang on until the fall, because there were still a few months left in her long term health care coverage and she hated to walk away from a good deal.
A couple of years ago, I was here to visit in the spring. We went to one of the shopping centers in Dickson City that had a store she liked. She went looking around and came back holding a sweater that was on sale. She said, what do you think of this? I said, it looks nice, but it's awfully heavy and we're basically done with winter. Maybe you can find something a little more spring-like. She said ok, and went off looking around again. About five minutes later, she came back with the exact same sweater, and I said, Mom that's the same sweater you showed me before—why don't you look for something else. She said, oh, right, and went off for another few minutes, coming back with, you guessed it—the exact same sweater. She said, what do you think of this? I said I think you should buy it.
Last year, I went to visit her at Elan Gardens and found her kitchen table piled high with literally hundreds of books that had come from the lending library downstairs. She said, I don't know where these came from—Somebody keeps coming and leaving them here. I said, OK, Somebody's daughter is going to return them all.
She kept her sense of humor. I had to call multiple times to get her in her room, because she was usually downstairs engaged in the activities. When I finally got her, I asked where she'd been. She'd tell me, she was out gallivanting, trying to pick up men, but she couldn't find any good looking ones. I said, Mom, at this age, you want to go for rich, not good looking.
She couldn't tell you what she had for lunch 10 minutes ago, but she remembered what happened in 1940. One day when she was in Elan Gardens, she told us she was going to be going to a baseball game. I thought that was odd, because it seemed to come out of nowhere, but Lani said to me, Grammy may be forgetful but she doesn't make things up.
I emailed Ann at Elan Gardens and she said, oh yes, we're going to go see the Wilkes-Barre/Scranton Railriders play next Sat. The next week I asked her if she enjoyed the baseball game and she said, no I didn't go to a baseball game. I asked Ann, and she said it had in fact been rained out and they were rescheduling the trip. Then my mother said, you know it's been years since I've been to a baseball game. And I said, well, that's true, but we went to games in Atlanta with Judy, and my dad used to get tickets from one of his insurance companies to go to the Orioles games in Baltimore. And she said, I used to go see baseball games with my father when I was a little girl and we used to go see the Red Sox.
I thought that was odd because I knew she and my grandfather had not gone to Boston together–ever. But Lani said, Grammy doesn't make things up. So I went and googled it, and sure enough, the Boston Red Sox had their farm team in Scranton in the 1930s and 40s. She was absolutely right.
A few months ago, I came to visit and when we came back from dinner, there was a new person at the desk at Elan Gardens. She introduced herself and said you must be one of Janet's daughters. I said, yes, I'm the one from California, and my sister is the one from Seattle. And my mother piped up and said, I have a daughter who lives in Seattle! I said, gee, what a coincidence.
My mother was never one for pretense and she was not impressed with fancy labels or designer brands. One time in the early '80s when I was living in Boston, I was having problems finding a winter coat that fit right. Either the arms were too short or if the arms fit, the coat was too big. I'd looked everywhere. We came down to Wilkes-Barre to visit and went to a bunch of stores around town with no luck.
Finally, in desperation, she took me to Blum Brothers, which was a store she normally wouldn't shop in. She told them what we were looking for and one of the Mr. Blums (I don't remember which one), came out with a coat displayed on his arm. With a big flourish he said, And THIS is Diane Von Furstenberg's new winter coat! My mother, without missing a beat, said, Gee, isn't she cold without it?
Poor Mr. Blum just stood there with his mouth on the floor, not sure what to say. After I picked myself off the floor from laughing, we wound up buying it, because it actually fit me.
When we got the call on May 3rd that she had taken critically ill, it wasn't clear that we'd be able to get back here in time. Judy was in Mexico on vacation, I was in the Bay Area, and Lani was in LA. But we all got here within 24 hours and she held on to see all of us, and to see her cousins Dick and Ed and Marty, too.
My grandmother Gertie died of Alzheimer's Disease in 1972 in the Jewish Home in Scranton after a long decline. Ever since then, my mother told us she never wanted to die like that. She didn't want to be kept alive by machines and she didn't want to be a burden to her family. She also made Judy and me promise not to put her in the Jewish Home.
Last week, when she made it through the pneumonia and the ICU, it was agreed that the best place for her to go for rehab really was the Jewish Home. She was there for only about a day before she died. Maybe she realized where she was and said this is it—I'm out of here.
Mom, just wanted to let you know, it was Marty that took you to the Jewish Home last week—not Judy or me. I think he was getting back at you for trying to dump him in New York City all those years ago!