My dog needed a refill on one of his prescriptions. How difficult could that be?
For years, we've used online pet med companies, like Chewy, who quickly and easily refill pet prescriptions on time and at a reasonable cost.
The problem is our vet has decided they don't want to take the time and effort to approve online prescriptions. Now you either have to go through their online service (priced at about 25% more than Chewy), or come to the vet, pickup a paper prescription, then physically mail the original prescription to the online provider, who can then fill it and mail the meds back. Or you can get the meds from the vet directly, which is always the most expensive option.
Huh? It should not have been easier for me to fill a prescription for opioid pain killers after my recent knee surgery than to get a refill for doggie-Advil.
In an age when everything is done online–including filling prescriptions for human patients–why have we reverted back a century to doing things the old-fashioned way?
Because the vet is concerned only about their cost of doing business–not about ongoing customer care or providing the best solution for their patients. Why don't we change vets? Because it's virtually impossible to get a timely appointment with a new vet, and the current vet isn't taking new customers–so if you leave, you're out of luck, therefore you put up with being treated poorly.
Right now, we have a supply constraint–too many pet owners, not enough vets–so the vets can throw customer satisfaction out the window and not worry about it. But that won't last forever. When conditions change, customers will remember how they were treated, and react accordingly.
Don't expect us to sit and stay forever when we've been relegated to the doghouse. There's a greener pasture out there somewhere.
---
Check out our marketing leadership podcasts and the video trailer for my book, Marketing Above the Noise: Achieve Strategic Advantage with Marketing that Matters.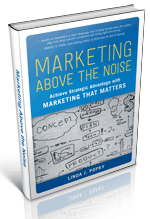 .
---
Let us help your business rise to the top.
linda@popky.com
(650) 281-4854
www.leverage2market.com