A week ago today, a gunman opened fire in two mosques in Christchurch, New Zealand, killing 50 people and injuring 50 others.

The gunman, captured alive, published a lengthy manifesto outlining his hatred of Muslims, as well as his white supremacist philosophies. He then started livestreaming video of his massacre on Facebook and other social media.
This was the first time a terrorist attack of this type has occurred in New Zealand, a quiet island country in the South Pacific with a total population of less than 5 million people. It shocked the world and shattered the sense of security New Zealanders have enjoyed till now.
Sadly, attacks of this type have become common place in many other countries. In the US, there were over 300 mass shootings in 2018. This included a synagogue in Pittsburgh, a bar and grill near Los Angeles, and the Parkland School shooting in Florida, among others.  We seem to go from one deadly event to another, without breaking out of our daily routines.
Not so in New Zealand. People of all faiths came together to protect Muslim worshippers throughout the country. Media refused to name the shooter, thereby depriving him of the fame and glory he likely had envisioned. And yesterday, Prime Minister Jacinda Ardern took decisive action to ban all assault weapons in the country.
Does this mean there will never be another horrific attack in New Zealand? Possibly not. But it sends a strong message to would-be gunmen that it is not business as usual in Kiwiland. There will be nowhere to hide for perpetrators of crimes like this in New Zealand. That's a model the rest of the world would do well to emulate.
Are your customers being served? How sure are you about that? Read my article.
Join me for the free online video interview series The Inspired Leadership Show: Discovering Secrets to Being an Effective Leader Through Communication, Positive Influence and Sustainable Productivity. My episode is live NOW!
Contact me to find out how to get heard above the noise.
---
Check out our marketing thought leadership podcasts and the video trailer for my book, Marketing Above the Noise: Achieve Strategic Advantage with Marketing that Matters.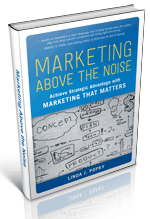 .
---
Let us help your business rise to the top.
linda@popky.com
(650) 281-4854
www.leverage2market.com