My gas grill picked an inopportune time to stop working.
With summer fast approaching, this is the time of year when BBQs are the preferred way to cook dinner. Over the last couple of months, it's been getting harder and harder to get the grill to light. Then, a few weeks ago, it just stopped lighting at all–even though it has plenty of propane gas and everything else seems to be working fine.
The big question was whether or not I should try to get this repaired–or would I spend more money on parts and labor than it was worth. Maybe I should just get a new one at one of the many seasonal sales.
Before doing that, I wanted someone knowledgeable to look at it. Perhaps this was something that wouldn't be too hard to fix. So I asked the contractor who's doing some repairs to my house to take a quick look.
That he did–and it was definitely quick. After no more than 30 seconds, he asked me if I had any spare AA batteries. Sure. But what did that have to do with the gas grill?
Turns out the igniter is powered by a AA battery. He swapped that out and voila! The grill lights perfectly. A battery! Who would have guessed? Not me!
How often do we look at something that's not working and make assumptions that the whole system is faulty? Too often, we jump to the conclusion that we'd be better off starting from scratch instead of letting the people who understand what's going on tell us what's really wrong.
Sometimes, all you need is a little something to create a spark.
S'mores, anyone?
---
Check out our marketing leadership podcasts and the video trailer for my book, Marketing Above the Noise: Achieve Strategic Advantage with Marketing that Matters.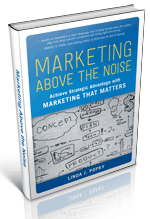 .
---
Let us help your business rise to the top.
linda@popky.com
(650) 281-4854
www.leverage2market.com