Lies, damn lies, and statistics.
We've all seen statistics that seemed too good, too bad, or just too strange to be true. The problem is with the right set of data–analyzed at exactly the correct angle–you get a perspective that generates a particular statistic. But looking at things from a broader perspective, shows something very different.
Today, the local media reported that the 2023 Bay Area tech layoff had reached a "grim milestone." The latest cuts at Meta will bring the number of people let go this year to 25,000. Gee, that sounds bad, doesn't it?
Until you consider that there are over 378,000 tech jobs in the Bay Area, and more than 25,000 people were added to the job rolls from mid 2021-2022 alone, plus 16,000 added since mid-2022. In fact, unemployment in the area is now about 2.9%–where 4% is considered full employment (there are always some people in between jobs–that's the way the world works).
Furthermore, there are more than 200,000 fewer people on the unemployment list now than in mid 2020, at the height of the pandemic.
So what does this all mean? Probably that those companies who hired like crazy for the last couple of years overdid it. Those who thought upward trends would last forever are realizing it's called a business cycle for a reason.
Silicon Valley is not imploding. Tech is not under siege. And maybe some of this culling will help make organizations stronger for the future.
The next time you see a stat like this, stop and ask what's really being measured. Then look at things from a more reasonable perspective before becoming too grim.
---
Check out our marketing leadership podcasts and the video trailer for my book, Marketing Above the Noise: Achieve Strategic Advantage with Marketing that Matters.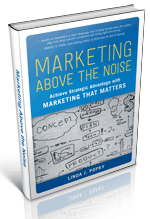 .
---
Let us help your business rise to the top.
linda@popky.com
(650) 281-4854
www.leverage2market.com