This week, Bronny James, the elder son of NBA superstar LeBron James, suffered a sudden cardiac arrest while practicing with his USC college basketball team.
It appears Bronny was lucky. The trainers on his team knew exactly what to do to get his heart restarted and treat him until emergency responders arrived. Today, he left the hospital to recover at home.
This was not the first we've heard of this type of incident. Buffalo Bills safety Damar Hamlin had a cardiac incident in January and appears to have fully recovered. The USC trainers revived another basketball player last summer, who later was able to rejoin the team.
The problem is we hear about these incidents because they involve celebrities or professional athletes who survived. The ending is not as positive in too many cases. Sudden cardiac arrest is the leading cause of death in athletes. It's much more common in men than women, and it's most common in Black college basketball players.
But don't think you're off the hook because you don't play hoops. More than 400,000 people die of cardiac events each year–and most of them are not athletes. The American Heart Association estimates as many as half those deaths could be prevented if CPR was performed early enough. Automated exterior defibrillators (AEDs) help save the lives of those who suffer sudden cardiac events. You may be seeing some of these at athletic stadiums, in community centers, on airplanes, and in other public places.
We need more AEDs and more people trained in lifesaving skills like CPR. It's up to us to take this lesson to heart.
---
Check out our marketing leadership podcasts and the video trailer for my book, Marketing Above the Noise: Achieve Strategic Advantage with Marketing that Matters.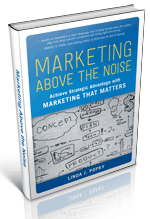 .
---
Let us help your business rise to the top.
linda@popky.com
(650) 281-4854
www.leverage2market.com