The Hollywood writers' and actors' unions are on strike, so no new material for films or TV series is being written or produced for the foreseeable future.
If we didn't know better, it might seem like an amateur writer jumped in to the void to create the most implausible plot ever:
A former US president, impeached twice but not convicted, has now been indicted three times for various state and federal crimes, and a fourth indictment appears on the horizon.
This man refuses to believe he lost the last election, and appears to have incited a revolt against the government.
In spite of this, he is running for reelection and leading his party's candidates by a huge margin.
Both this candidate and the incumbent president running against him are senior citizens–between 76 and 80 years old.
Congress is investigating the current president's drug-addicted son, for a litany of offenses he may have committed while under the influence. The goal is to tie the father to the son's crimes.
The governor of Florida, also a presidential candidate, has started a crusade against anything "woke" (whatever that means) and chosen Mickey Mouse as his #1 target.
New generative AI technology is being touted as both the best thing since sliced bread and the catalyst that may end the human race (Terminator, anyone?).
An actor who once played a political leader is now actually leading his country in an effort to beat back one of the world's largest nuclear powers that is trying—so far unsuccessfully—to annex his homeland.
Climate change has caused the planet to be hotter than any time in recorded history–causing massive wildfires, coral reefs to be bleached, flooding, and other natural disasters still to unfold.
What kind of plot is this? Who wrote this craziness? Would any self-respecting studio buy this story? More importantly, how does it resolve?
We could wait for the movie, but we may not like the way it ends. Maybe it's time to write a new script.
---
Check out our marketing leadership podcasts and the video trailer for my book, Marketing Above the Noise: Achieve Strategic Advantage with Marketing that Matters.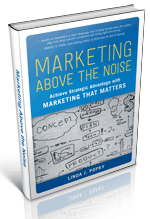 .
---
Let us help your business rise to the top.
linda@popky.com
(650) 281-4854
www.leverage2market.com