The latest big thing is ChatGPT–an AI-based tool that can write essays, compose poetry, and even pass graduate school exams.
The possibilities for this tool seem pretty amazing. It will write email for you. . . and write papers for your high school or college classes, too. It will create poetry. . . and author entire books, as well.
But what happens when the tool creates something that's not correct–is it the tool's fault, or the "author" who employed it and should have known better.
And who is the author of a piece generated by ChatGPT? When does this become plagiarism, and how do we spot it?
Just like any tool or technology, ChatGPT has its limitations. Automated customer service systems aren't ready to replace humans, and self-driving cars are still not ready for prime time. While AI tools will likely bring a higher level of grammatical accuracy and improved readability to some projects, they're unlikely to provide a level of creative genius any time soon.
While an AI bot might be able to model a play after Shakespeare or sculpture after Michelangelo, it's unlikely they could create such a masterpiece from scratch.
Look around your business. Where can you use tools and technology to raise the bar, or remove obstacles to creativity? And how can you pave the path for real people to reach their creative potential?
---
Check out our marketing thought leadership podcasts and the video trailer for my book, Marketing Above the Noise: Achieve Strategic Advantage with Marketing that Matters.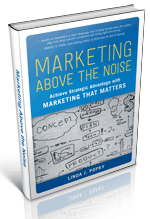 .
---
Let us help your business rise to the top.
linda@popky.com
(650) 281-4854
www.leverage2market.com