Recently elected NY Congressman George Santos appears to have lied about his ethnic background, his education, and his work experience.
But that was only the beginning. Now, stories are coming out about how he may have committed check fraud in Brazil, scammed roommates and colleagues, and even absconded with money collected to pay for medical care for the service dog of a disabled veteran.
Certainly Santos (who also went by the names Anthony Devolder and Anthony Zabrovsky) is an accomplished con man who appears to have lying down to an art. Unfortunately, lying about your background or committing a series of crimes does not result in automatic expulsion from Congress. It's unlikely the Speaker will push for his removal, given the precariously thin margin the Republicans hold in the House.
The bigger question is, with all of these allegations against Santos (some of which are fairly easy to prove), how did the man get elected in the first place? Where were all the people with all of this information before the November election?
We live in an age of disinformation, yet there's enough substance to these allegations that it's hard to imagine they would have all been dismissed out of hand by voters. Someone knew these things and chose not to say anything–or they didn't try hard enough to bring these allegations to light when they could have made a difference.
If Santos was able to skate by the truth and get elected to Congress, it's no surprise how may other scam artists out there are able to con people out of retirement funds, convince dating partners to send large sums of money, or create expensive products and services that don't really work.
The question is who in your business circle may not be all they seem? Do you have employees or partners whose stories may seem a little too incredible? Have you contracted with suppliers who don't seem to be able to deliver what they promised? Where else should you be scrutinizing what you've been told a little more closely?
The fact that Santos has gotten as far as he has is pretty shocking. Not digging into situations that we suspect aren't as they seem is truly unbelievable.
---
Check out our marketing thought leadership podcasts and the video trailer for my book, Marketing Above the Noise: Achieve Strategic Advantage with Marketing that Matters.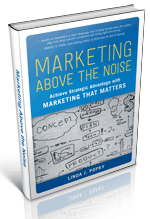 .
---
Let us help your business rise to the top.
linda@popky.com
(650) 281-4854
www.leverage2market.com