This week, we learned that the Houston Astros had a system set up to steal signs from the opposing team during their 2017 triumphant run to the World Series.

Major League Baseball suspended manger AJ Hinch and general manager Jeff Luhnow, after which the Astros immediately fired them. Then, Alex Cora, who had been implicated in the scandal, resigned as manager of the Boston Red Sox.
Today, Carlos Beltran resigned as manager of the New York Mets because of his involvement during his time as a player for the Astros.
How deep does this scandal go? How systemized was the cheating? Are there other teams with a win-at-all-costs culture that encouraged this kind of action?
Baseball commissioner Rob Manfred has spent the last few years trying to modernize the sport to appeal to younger fans. He's eliminated some player substitutions, set timers to get the game to move faster, and reduced the number of mound visits. Seems like he's been rearranging deck chairs on the Titanic, while the cheating iceberg has been ramming the sport.
Fans, players, coaches, and managers start with the basic premise that the sport is played fairly, that rules are enforced, and that games are decided based on actions on the field of play–not by cheating.
Until MLB can make reasonable assurances that those involved in these scandals are no longer associated with the game and actions have been taken to ensure this doesn't happen again, all the tweaks Manfred can think up won't make a world of difference.
Right now, the big loser is the sport of baseball. Strike three, you're out.
---
Check out our marketing thought leadership podcasts and the video trailer for my book, Marketing Above the Noise: Achieve Strategic Advantage with Marketing that Matters.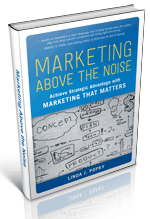 .
---
Let us help your business rise to the top.
linda@popky.com
(650) 281-4854
www.leverage2market.com