We love to procrastinate. People have always put off decisions until the last minute. But now, we're seeing people waiting until literally the last minute before making a commitment.

We see this with SAC, our association: we get more renewals the last 2 weeks of the year than any other time. I also see it with clients who are running events, with a large percentage of tickets sold the last week prior to the event.
I call this the Amazon Effect. When you can wait till 5pm to order something that Amazon will magically have on your doorstep the next day, why would you make other commitments well in advance?
It's not just Amazon. With Uber or Lyft, I can order a car service within minutes. With AirBnB, I can get accommodations right before I need them. WeWork allows me to get office space very quickly. And there are services for nearly instant dog walking, massage treatments, and a hundred other things.
While this may be nirvana for the customer, it often throws a huge wrench into planning and preparation for the supplier of the goods or services. Inventory must be ordered, space reserved, food ordered.
The question is what can you do to counteract this? How can you convince your target audience to commit themselves earlier?
Higher fees for last minute signups may not work. Consider adding additional value for those who sign up early–something attractive they'll miss if they wait too long.
While Amazon and Uber may be able to thrive on this model, for most of us the Amazon Effect is a prime irritant unless we plan to address it.
---
Check out our marketing thought leadership podcasts and the video trailer for my book, Marketing Above the Noise: Achieve Strategic Advantage with Marketing that Matters.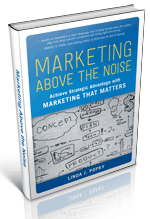 .
---
Let us help your business rise to the top.
linda@popky.com
(650) 281-4854
www.leverage2market.com