Yesterday, Vladimir Putin's threats to invade Ukraine went from occupying our mind space, as I mentioned last week, to a physical invasion and attack.

Ukrainians are scrambling for cover, stock and commodity markets are flailing, and Western allies (including NATO) are threatening more and more sanctions–which may hurt the Russian economy, but are not guaranteed to stop the attempted takeover of this country.
All these reactions are to be expected in reaction to a foreign power invading another sovereign nation. What's surprising is that despite weeks worth of troop buildup and military preparations, plus ongoing threats from Putin–this was still a surprise to many people: We never thought he'd really do it.
The late Maya Angelou put it perfectly, "When someone tells you who they are…believe them."
Putin has told us exactly who he was for years–he's meddled in US elections, poisoned potential rivals, and conducted massive cybersecurity attacks around the world. So why didn't we believe him?
Examples of this abound all around us. There are people who still won't get vaccinated because they don't believe COVID will impact them. Many employers are in shock that they can't find enough employees to hire–because too many people are saying no more to bad working conditions and poor pay.
Perhaps if we pay more attention to what people are telling us–good or bad–we will be able to take effective proactive action. It shouldn't take bombs falling or people quitting in droves to make us aware we have a problem brewing. Believe me.
Contact me to find out how you can get heard above the noise–even in a crisis situation.
Catch the latest episodes of the hottest podcast on business and entrepreneurship…ShrimpTank Seattle Wednesdays at noon PT.
---
Check out our marketing thought leadership podcasts and the video trailer for my book, Marketing Above the Noise: Achieve Strategic Advantage with Marketing that Matters.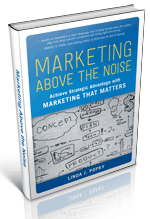 .
---
Let us help your business rise to the top.
linda@popky.com
(650) 281-4854
www.leverage2market.com