This week, the sports world lost a giant–someone who never played a professional sport, but had

an outsized influence on the game of baseball.
Hall of Fame broadcaster Vin Scully, who announced Dodgers games for 67 seasons, passed away at the age of 94. Scully had the longest tenure as a broadcaster with a single team in the history of professional sports and may have been the greatest baseball broadcaster of all time.
Scully began his broadcast career covering college football–and was dedicated to remaining impartial, even as other announcers would blatantly promote the home team. His Dodgers run started on radio in Brooklyn and carried through the 2016 season in Los Angeles. During that time, he called both regular season and playoff games, and appeared on ABC, CBC, and NBC–as well as on the Dodgers own network.
Living near the Polo Grounds in New York, Scully grew up a NY Giants fan. Fittingly, his final career broadcast was a Dodgers-Giants game in October 2016 in San Francisco, where his commentary was simulcast by both teams.
His final message:
You and I have been friends for a long time, but I know in my heart that I've always needed you more than you've ever needed me, and I'll miss our time together more than I can say. But you know what? There will be a new day and eventually a new year. And when the upcoming winter gives way to spring, rest assured, once again it will be "time for Dodger baseball." So this is Vin Scully wishing you a very pleasant good afternoon, wherever you may be.
Rest in peace, Vin Scully.
---
Check out our marketing thought leadership podcasts and the video trailer for my book, Marketing Above the Noise: Achieve Strategic Advantage with Marketing that Matters.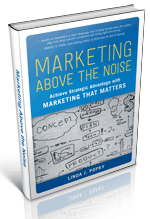 .
---
Let us help your business rise to the top.
linda@popky.com
(650) 281-4854
www.leverage2market.com