It seems like every streaming service is raising their prices and/or adding advertisements.
There was a time not that long ago when American viewers turned to cable TV for entertainment programming. There was basic cable, then bundles of premium services to choose from if you wanted even more movies or sports.
Then customers began "cutting the cord" to cable and moving instead to the streaming services: First Netflix, then Amazon, Apple+, Disney+, Hulu, Paramount+, Peacock, and others.
The problem is the market is limited. As of last year, 85% of American households subscribed to at least one streaming service, and the average person has subscriptions to three. Forbes estimates nearly half of subscribers pay for services they never use. And they're not interested in continuing to add services or maintaining them at higher prices.
Netflix, whose initial value proposition was based on friends and family sharing accounts, has clamped down on that option. If those folks decide they want Netflix, they'll have to pay more. . . which means they'll likely decide to turn off another streaming service instead.
That's a serious issue for providers, because streaming services aren't profitable. The cost to buy, generate, and support this stream of content is substantial. Almost all the streaming services expected to subsidize their investments by revenue from cable customers. . . except customers are turning off their cable accounts, so that model no longer works. Whoops.
Where do we go from here? I expect in the not-too-distant future, we will see these separate services consolidate under big umbrellas with discounted pricing for bundles–sort of like the way things used to be with cable. The more things change, the more they stay the same.
This will probably make an interesting documentary some day on a streaming service or two. The question will there be any one left standing to tell the story?
---
Check out our marketing leadership podcasts and the video trailer for my book, Marketing Above the Noise: Achieve Strategic Advantage with Marketing that Matters.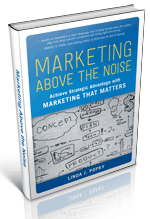 .
---
Let us help your business rise to the top.
linda@popky.com
(650) 281-4854
www.leverage2market.com