This week, a plane believed to be carrying Yevgeny Prigozhin and nine others crashed outside Moscow.
Prigozhin is the Russian paramilitary leader who unsuccessfully challenged Vladimir Putin, yet was allowed to go free. It's no surprise to any observers of Russian politics that Prigozhin didn't die a natural death—people who cross Putin often fall out windows or ingest poison, but they don't die of old age.
Today, in Atlanta GA, former president Donald Trump surrendered to authorities to face charges related to his efforts to overturn the 2020 US presidential election.
The juxtaposition between the two countries could not be more stark. In one case, those who cross the country's leader (including his own generals who may have aided Prigozhin) are systematically eliminated. In the other, a man accused of trying to subvert the results of a national election is arrested, offered bail, and released on his own recognizance.
In the US, Trump is considered innocent till proven guilty—of these charges, and others in three separate indictments. In Russia, there is no second chance—regardless of the crime of which you've been accused.
American democracy is far from perfect. There are many things we don't do well and some which we may do fairly poorly. But safeguarding our democracy is critical, when you consider how easy it is for a supposedly "elected" tyrant to stamp out opposition elsewhere.
---
Check out our marketing leadership podcasts and the video trailer for my book, Marketing Above the Noise: Achieve Strategic Advantage with Marketing that Matters.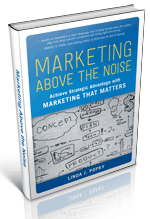 .
---
Let us help your business rise to the top.
linda@popky.com
(650) 281-4854
www.leverage2market.com