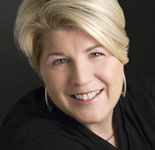 Kathy Kingston
Benefit Auction Strategist, Consultant & Professional Auctioneer
Kingston Auction Company
www.kingstonauction.com
Award-winning thought leader in fundraising auctions, professional auctioneer and consultant, Kathy Kingston has raised millions of dollars for non-profit organizations across the country for over 25 years. Whether providing training and coaching to auctioneers, consulting to not-for-profit executives or their boards, or deploying one of their award-winning team of professional auctioneers, Kingston offers one-stop shopping to organizations who want record-breaking auction results.
In this podcast, Kathy talks about the most important strategies to market a successful fundraising event, as well as the most common mistake non-profit organizations often make when it comes to fundraising.
Download Kathy's free article: 10 Deadly Sins of Benefit Auctions: How to Wreck Your Charity Fundraiser.
---

Listen to this podcast.
---