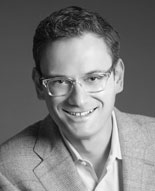 Alex Goldfayn
CEO
The Revenue Growth Consultancy
www.goldfayn.com
Alex Goldfayn the CEO of The Revenue Growth Consultancy, creates average annual revenue growth of 10-20% for clients. About once a week, Alex delivers keynote speeches, sales kickoffs, breakout sessions and workshops for various associations and companies around the country. The topic is sales growth, but he also dives deeply into confidence (instead of meekness), proactivity (instead of reactivity), and optimism (instead of pessimism). He s the author of the Wall Street Journal bestseller Selling Boldly, published in early April 2018, and The Revenue Growth Habit, selected one of the top 15 business books of the year by Forbes.
In this podcast, Alex tells us why fear is the greatest enemy of sales. He explains the three-step Selling Boldly System, and explains why it's so important to call the happy customers who do not have a problem. Alex explains how the move from fear to confidence may be the most important thing you do to build your business.
---

Listen to this podcast.
---