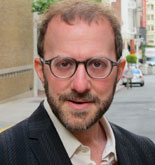 Joseph Rosenfeld
Personal Brand and Style Strategist
www.josephrosenfeld.com
For over 25 years, Joseph Rosenfeld, has helped his clients discover their personal brands and design their personal styles. His Silicon Valley clients benefit from a simplified yet sophisticated system of creating a personal brand and style suited to their personalities, goals, coloring, styles, and bodies.
In this podcast, Joseph talks about how the right personal style and fashion can make or break a personal brand, and how the right alignment between personal and corporate brands can create success for both individuals and the organizations they work for.
---

Listen to this podcast.
---