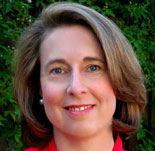 Christine Hansen
Senior Director of Strategic Alliances
Marketo
www.marketo.com
Christine Hansen is the Senior Director of Strategic Alliances for Marketo, specializing in business development with commerce and other partners in the customer engagement space. She has held a variety of leadership roles in partnership development, product management and marketing with such companies as PayPal, BEA Systems, Oracle and others.
In this podcast, Christine talks about how Marketo is leveraging partners to drive growth. She discusses how Marketo's technology, service and distribution partners extend the company's offerings, helping to accelerate Marketo's growth into some of the world's most disruptive companies.
---

Listen to this podcast.
---