It's 2020! If we were at the eye doctor, 2020 vision would be perfect. But how clear is our business vision?

Do you know what you want to accomplish for your business this year? Here are a few thoughts to get you started:
See where you are and where you're going. Sounds simple, but too often we see businesses go off and execute without considering what they really want to accomplish.
Identify measurable and meaningful goals. How will you know if you're succeeding? Your goals should be clear, straightforward, actionable, and relevant to the team members who will need to meet them.
View what's going on around you. What challenges are your customers facing? What changes are your competitors making? How should you react?
Look at your key metrics. Are you on track to meet your goals? If not, what actions should you take to get back on track?
Envision possibilities. What new opportunities should you consider this year? How can you move beyond what's been done before? Are you thinking big enough?
There's no better time than today to start seeing a great future for your organization. That's one thing we can see perfectly clearly.
Contact me to find out how to get heard above the noise.
---
Check out our marketing thought leadership podcasts and the video trailer for my book, Marketing Above the Noise: Achieve Strategic Advantage with Marketing that Matters.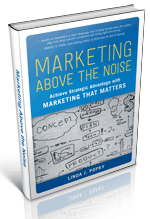 .
---
Let us help your business rise to the top.
linda@popky.com
(650) 281-4854
www.leverage2market.com