This morning, Queen Elizabeth II, Britain's longest serving monarch, passed away at age 96.

This was not a surprise–the Queen had not been well the last year. Over the last few months, she had missed several important state occasions for the first time in her 70-year reign.
The succession was immediate: Her eldest son Charles automatically became King Charles III upon the Queen's death. But it's not at all clear that Charles will be able to maintain anywhere near the influence of his mother.
The world has changed dramatically over the more than 2/3 of a century of Elizabeth's reign. What was once called the British Empire has shrunk to a fraction of the size and power it wielded in 1952. The Royal Family had its share of scandals and tragedy during that time–from the death of Princess Diana to the accusations of sexual misconduct of Prince Andrew.
Most amazingly, though, was how Elizabeth maintained her stature, dignity, and power in spite of the chaos and division swirling in the world around her. Other world leaders came and went–including 15 different UK prime ministers–but Elizabeth prevailed with honor and quiet elegance.
The monarchy may have outlived its usefulness. But for more than 70 years, Queen Elizabeth II provided a sense of balance and propriety in a messy, power hungry world.
RIP, Elizabeth
---
Check out our marketing thought leadership podcasts and the video trailer for my book, Marketing Above the Noise: Achieve Strategic Advantage with Marketing that Matters.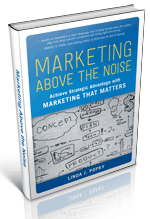 .
---
Let us help your business rise to the top.
linda@popky.com
(650) 281-4854
www.leverage2market.com