This week, I'm visiting friends on an island near Victoria in British Columbia, Canada.

So many things in Canada are similar to the US. Canadians really are more friendly and more polite than Americans. In this part of Canada, everyone speaks English (with different spellings and phrasings), but measurements are in kilometers and centigrade, vs. miles and Fahrenheit.
Many of the key issues don't change when you cross the border: The consequences of climate change, drought, and fire danger. Managing COVID and avoiding infection. Concerns with inflation, the war in Ukraine, and other global issues.
Yet some American issues don't really exist here. There's virtually no gun violence on this side of the border. Health care is nationalized, which means no one dies in Canada because they can't afford a vial of insulin. And the transition of power from one government to the next doesn't include storming a government building or trying to invalidate the results of fairly held elections.
Is the Canadian system perfect? Definitely not. There is only a fraction of the number of people living on this side of the border, compared to the US, so not everything done here could ever be replicated in the US.
But are there things we can learn from our closest neighbor? Absolutely. The first step to implementing successful change is acknowledging that change is needed. Once that happens, all kinds of possibilities can open up, eh?
---
Check out our marketing thought leadership podcasts and the video trailer for my book, Marketing Above the Noise: Achieve Strategic Advantage with Marketing that Matters.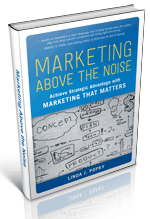 .
---
Let us help your business rise to the top.
linda@popky.com
(650) 281-4854
www.leverage2market.com