For decades, American television audiences would tune in to hear newscaster Walter Cronkite update them on the day's events, ending with his catch phrase, "And that's the way it was."
Forty plus years later, the news media has morphed into a totally different animal. Not only do we have a near infinite number of options and delivery vehicles to choose for news, but just about anyone with an electronic device and an internet connection can choose to create and publish their own take on current events. Many of these "news creators" offer nothing more than their own opinions, based on speculation or preconceived biases.
Yet, when a major global media organization adds the word News to their name, we take them at their word that they're actually airing stories that are their version of "the way it was."
Now, as a result of a billion dollar lawsuit by Dominion Voting Systems against Fox News, we're learning that both on-air personalities and senior executives at Fox knew the 2020 election had not been stolen, and that Biden was duly elected president. In spite of this, they went on air hundreds and hundreds of times saying just the opposite–because it's what they thought their viewers wanted to hear.
Rupert Murdoch is quoted as saying he didn't see things as red or blue, but only green–the color of money.
Abe Lincoln wisely told us you can fool all of the people some of the time, and some of the people all of the time, but not all of the people all of the time–which may become a very expensive lesson for Fox.
While I don't believe most organizations operate in as egregious a manner as Fox, there are times when just about everyone says something they don't really believe–for one reason or another.
Stop and look at what's being said by your people and your organization–to customers, suppliers, employees. How often are you saying things that no one really believes: whether it has to do with product delivery, service commitments, or operating a safe railroad (as in the case of Norfolk Southern and the toxic disaster in East Palestine, Ohio).
If you don't believe what's being said, then stop your team from saying it. The longer you keep going, the bigger the hole you're digging. Don't wait for a billion dollar lawsuit or a train derailment.
Ask yourself: Could I look Walter Cronkite in the eye and honestly say, "That's the way it was"?
---
Check out our marketing thought leadership podcasts and the video trailer for my book, Marketing Above the Noise: Achieve Strategic Advantage with Marketing that Matters.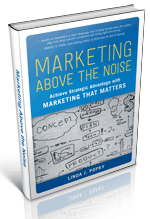 .
---
Let us help your business rise to the top.
linda@popky.com
(650) 281-4854
www.leverage2market.com