Last year, consumers complained bitterly about the price of gasoline–which got as high as $6 and $7 a gallon in some places.
But that's nothing compared to the price of insulin, which could cost as much as $300 for a 10ML bottle–the equivalent of $113,400 per gallon–for people who don't have health insurance.
The difference is more than just dollars and cents. Without insulin, people die. At least 7 million people in the US are insulin-dependent. A recent Yale University study found that nearly 15% of those (almost a million people) find paying for insulin is a serious financial burden.
We hear all the time about novel next-generation medical therapies that cost hundreds of thousands of dollars, but that's not the case here. Insulin was discovered by Canadian doctor Frederick Banting in 1922 and the patent was sold a year later–for $1. Today, it costs about $6/vial to produce.
Yet, over the last few decades, the three leading manufacturers of insulin have continuously raised their prices to exorbitant levels. Human insulin, introduced in 1996 at $21/vial, has been selling recently for more than 10x that price.
Until this week. Eli Lilly, who licensed the original insulin patent for a mere pittance, announced they will cap the price of insulin at $35/patient per month. It's expected the other two manufacturers will follow.
It's absolutely shameful that in a country like this, people were dying–not from side effects of diabetes–but because they couldn't afford to buy a vial of insulin. No one should have to choose between buying a bottle of insulin and paying for food or shelter.
A century ago, when Frederick Banting licensed his patent to the University of Toronto for no monetary reward, he said, "Insulin does not belong to me–it belongs to the world."
If only the world could afford to buy a vial or two. Now, they can.
---
Check out our marketing thought leadership podcasts and the video trailer for my book, Marketing Above the Noise: Achieve Strategic Advantage with Marketing that Matters.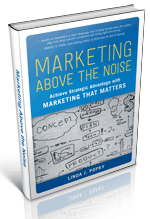 .
---
Let us help your business rise to the top.
linda@popky.com
(650) 281-4854
www.leverage2market.com