Tomorrow will be 50 years since the infamous Watergate burglary in Washington, DC.

How this happened, who exactly knew what and when, and who covered it up sound like the premise of a movie plot–except that it was all true.
The Committee to Reelect the President (who actually called themselves CREEP!), arranged a break-in at the Democratic National Committee headquarters in the Watergate building. It was what happened after this bungled affair that led to a web of corruption and coverup that went straight to the White House and then-president Richard Nixon.
The Washington Post's Bob Woodward and Carl Bernstein, backed by Post owner Katherine Graham, were undeterred by threats from the Nixon administration as they uncovered what really happened.
More importantly, when confronted with the evidence, Republican members of Congress were the ones who drove the Republican president to resign.
Fast-forward half a century to the January 6th hearings going on in Washington now. The evidence of wrong-doing by the previous administration is solid–even members of his own team and family have testified how they told Trump he'd lost the election and warned him not to feed the frenzy of those who attacked the Capitol that fateful day.
The question is why half a century later this behavior has been tolerated and even encouraged by members of the Republican party. Maybe it's time to dust off the books and movies to remind us what happens when our representatives put country over party and do the right thing.
Otherwise, all this president's men may not be able to put democracy back together again.
Contact me
 to find out how you can get heard above the noise–even in a crisis situation.
---
Check out our marketing thought leadership podcasts and the video trailer for my book, Marketing Above the Noise: Achieve Strategic Advantage with Marketing that Matters.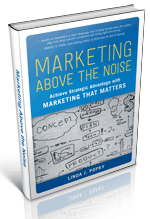 .
---
Let us help your business rise to the top.
linda@popky.com
(650) 281-4854
www.leverage2market.com