Today is the 15th birthday of the iPhone.
Whether you use an iPhone or an Android, Apple's introduction of this new technology changed the way we

all interact with the world.
Before iPhones, cell phones were, well, just phones. Now, making voice calls on a mobile device is something many of us don't do very often. But we do use these devices all day (and night) long to send emails and texts, watch videos, post on social media, order everything from meals to transportation, and track all kinds of things, including the food we eat, the wine we drink, and the exercise we do each day.
This didn't happen overnight–it took time for this functionality to be added and for apps to catch on. A whole ecosystem of developers sprung up to provide these capabilities. Some apps never really caught on. Remember Google Wave, Vine, and Quibi?
But the power we have in our hands today exists because 15 years ago Apple developed an entire technology ecosystem hidden behind the guise of a cell phone.
Forty years ago, we all watched ET try to phone home. Today, our mobile phone is our home.
What will the next 15 years bring? No one knows. Based on what we've seen before, anything is possible.
Contact me
 to find out how you can get heard above the noise–even in a crisis situation.
---
Check out our marketing thought leadership podcasts and the video trailer for my book, Marketing Above the Noise: Achieve Strategic Advantage with Marketing that Matters.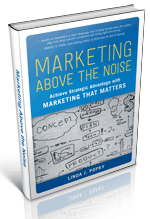 .
---
Let us help your business rise to the top.
linda@popky.com
(650) 281-4854
www.leverage2market.com