It's thought to be lucky at the casino, and this week 7/11 was likely lucky for millions of consumers and Amazon, too.
That's because July 11* and 12th were this year's Prime Days–filled with special limited deals on all kinds of products offered on Amazon. This year's total sales came to $12.7 billion dollars, more than 6% more than last year, with over 375 million products sold.
Prime Day started in 2015 with $900 million dollars in revenue on less than 35 million products. That means that not only is Amazon selling more products on Prime Day–but those products are more expensive, too.
But here's the really interesting thing. Prime Day has outgrown its Amazon roots. This year, there were at least 86 other retailers, including Target and Walmart, who ran Prime Days as well–capitalizing on the momentum created by Amazon.
Pretty amazing, that what was originally conceived as an Amazon promotion to break up the summer doldrums, when sales are traditionally lower, has now turned into an annual mass marketing event on a par with traditional Black Friday Thanksgiving sales.
What kind of special offerings can your business create to get customers excited during slow times? What can you do to generate momentum and excitement in your industry?
Don't wait for the Amazon of your industry to beat you to the punch. Make creating a new high value offering your prime directive.
*There's speculation that Amazon chooses a date for this event that's based on a set of prime numbers. This year that's 7 and 11.
---
Check out our marketing leadership podcasts and the video trailer for my book, Marketing Above the Noise: Achieve Strategic Advantage with Marketing that Matters.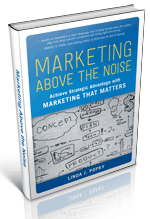 .
---
Let us help your business rise to the top.
linda@popky.com
(650) 281-4854
www.leverage2market.com