Today, the US Senate confirmed Judge Ketanji Brown Jackson to be the first Black female justice to serve on the United States Supreme Court.

As a candidate, President Biden promised to nominate a Black woman to the Court, should he have the opportunity to fill an opening. This caused consternation among many on the right, who expressed concern that somehow a less-qualified candidate would be nominated because they would be chosen from a very specific candidate pool.
Judge Jackson appears to have been an extremely well-qualified candidate for this position, with a wide depth and breadth of experience. But I highly doubt she was the only well-qualified candidate who happened to be both Black and female.
Why, then, was it necessary to focus on this set of demographics?
Because until the first person breaks a barrier, it appears that obstruction is impenetrable. There was a time when the Court had never included a Jew, a Catholic, a woman, a Black man, or a Hispanic woman. Until someone had the courage to say it's time for that barrier to disappear–after which we eventually wonder what all the fuss was about in the first place.
Next week will be 75 years since Jackie Robinson stepped onto Ebbets Field in Brooklyn to become the first African American player in Major League Baseball. While Judge Jackson's path to the SCOTUS was full of challenges, it's unlikely she would have gotten there had Jackie Robinson not endured daily insults and harassment to play ball for the Dodgers in 1947.
Branch Rickey, the General Manager of the Dodgers who took that first big step to integrate baseball, said, "Some day I'm going to have to stand before God, and if He asks me why I didn't let that Robinson fellow play ball, I don't think saying 'because of the color of his skin' would be a good enough answer."
Confirmed by the Senate today.
Contact me to find out how you can get heard above the noise–even in a crisis situation.
Catch the latest episodes of the hottest podcast on business and entrepreneurship…ShrimpTank Seattle Wednesdays at noon PT.
---
Check out our marketing thought leadership podcasts and the video trailer for my book, Marketing Above the Noise: Achieve Strategic Advantage with Marketing that Matters.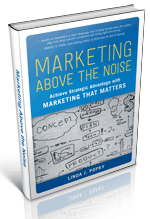 .
---
Let us help your business rise to the top.
linda@popky.com
(650) 281-4854
www.leverage2market.com