Science fiction introduced us to the notion of time travel–traveling forward to see what will happen, and backward to view the past (which we can't change, or the world will be irretrievably damaged, so they say).

Every hour has the same number of minutes; every day the same number of hours; every year the same number of days (except for Leap Year!).
But is our concept of time really accurate? Some days are unbearably long–some days fly by incredibly quickly. Our perception of time changes depending where we are in our lives: children often have no awareness of time at all. Young parents don't have enough of it. Those who are waiting for something or find themselves alone have too much. And those who are terminally ill find themselves savoring every second they are here.
Why does this matter? We have a multitude of technologies surrounding us, most of which promise to save us time for one reason or another. But the truth is, they also suck up time–sometimes more than the original task would have taken otherwise. They create new ways to pull us in–whether it's social media, streaming video, or gaming–and as a result, we seem to have less time than before.
As businesses, it's important that we be aware of how our products and services affect our customers' time. At a minimum, we never want to make our service more time consuming than whatever alternative they're using now. But can we consider how we can best help customers use their time more effectively? Can we add functionality that actually saves time for users, or creates a better time experience for others? Can we help users budget their time, like some cell phone apps are doing? Can we make the time they spend with us as pleasant as possible?
In today's world, how users experience their interactions with our products and services can determine whether they come back again, or refer us to others. It's time we pay close attention to that.
Are your customers being served? How sure are you about that? Read my article.
Join me for the free online video interview series The Inspired Leadership Show: Discovering Secrets to Being an Effective Leader Through Communication, Positive Influence and Sustainable Productivity. My episode is live NOW!
Contact me to find out how to get heard above the noise.
---
Check out our marketing thought leadership podcasts and the video trailer for my book, Marketing Above the Noise: Achieve Strategic Advantage with Marketing that Matters.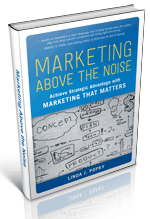 .
---
Let us help your business rise to the top.
linda@popky.com
(650) 281-4854
www.leverage2market.com