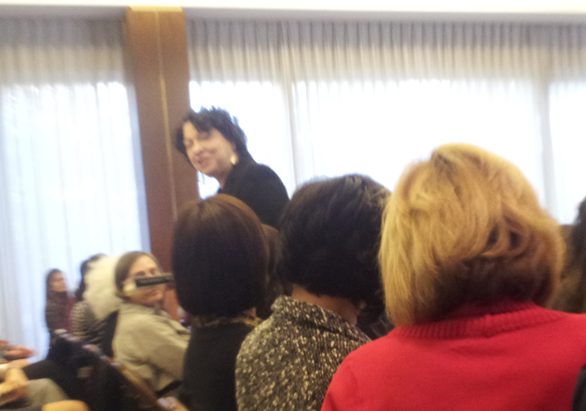 Justice Sonia Sotomayor, speaking at Wells Fargo, San Francisco
I had the opportunity to hear US Supreme Court Justice Sonia Sotamayor discuss her new bestselling book My Beloved World, in late January at a Watermark event in San Francisco. The Justice has been on a book tour, with several stops in the Bay Area. The previous evening she had spoken to a sold out crowd of about 5000 at the Fox Theatre in Redwood City.
This presentation was different—it was a small group of about 200 people, mainly executive women. The Justice, who says she prefers to be called Sonia, talked about her roots, coming from the projects in the Bronx, and how she felt both privileged to be able to attend Princeton but also so totally different from the other students.
She told us she identified as a Latina first and that it was years later that she first began to think of the implications of being a woman in her field—particularly when other attorneys passed her by as the support staff rather than the Assistant District Attorney.
She told us that her motto is never give up—and that means that sometimes you have to hold out till you're the last person standing. She told us she's sure women can have it all—but perhaps not at the same time. That having principles and a sense of our own integrity is critical. That we need to treat each other fairly, honorably and with dignity and respect.
She noted that the nine members of the court do respect each other –because they know each of the others brings a passion for their cause and commitment to doing the best they can for their country—even though they may strongly disagree with the others' opinions on judicial matters.
Sotomayor said the greatest obstacle to our success is our own doubt. She has been very open about living with Type 1 diabetes for the last 50 years, since she was diagnosed at age 8. I asked her what advice she would give to my 21 year old daughter, diagnosed with Type 1 nearly twenty years ago, as she prepares to enter the work world.
"Take care of yourself. Watch what you eat, get good exercise, and always take time for yourself," she said. "And tell your daughter there is nothing in the world she can't do…nothing in the world she can't be."
Good advice for all of us, whether or not you have Type 1 diabetes.