This week, we mark 30 years since my daughter's diagnosis with Type 1 diabetes, just before her second birthday.
Things have certainly changed dramatically since then. In 1993, glucometers were brand new, required a ton of blood, and weren't all that accurate. Human insulin was new, and we often had to mix a number of different insulin types to try and keep blood sugar in check throughout the day. Insulin pumps were fairly primitive, and not used for young children.
Probably the most dramatic change, though, was in what challenges Type 1 diabetics could expect they would face. Severe, life-threatening complications were quite common (faced by as many as half the kids with T1D), and we were warned about blindness, neuropathy, end stage kidney disease, and a whole slew of other potential horrors.
Today, we have a wide variety of new insulins, much more effective insulin pumps, and continuous glucose monitoring devices that are fairly accurate most of the time. Closed loop insulin delivery systems are advancing nicely. The level of severe complications has dropped to the single digits, and, with careful monitoring, most people with T1D can live a fairly normal long life.
The one thing we still don't have thirty years into this, though, is a cure.
While we're relieved that Ilana remains healthy and free of complications, she still has to manage diabetes 24/7 every single day. Just yesterday, her blood sugar went haywire because the pump infusion set she was using was faulty. High blood sugar impacts just about every system in the body, and makes it hard to focus, think, or work effectively.
Research continues, but for those of the nearly 1.5 million American families dealing with this disease, a cure can't come soon enough.
In honor of how far we've come and how far we still have to go, I invite you to join us in supporting organizations like JDRF, who supports much of the research for a cure, as part of their mission to advance life-changing breakthroughs for type 1 diabetes.
The only thing better than celebrating how long we've stayed ahead of this disease would be to start counting how long it's been since it was cured.
---
Check out our marketing leadership podcasts and the video trailer for my book, Marketing Above the Noise: Achieve Strategic Advantage with Marketing that Matters.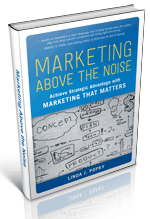 .
---
Let us help your business rise to the top.
linda@popky.com
(650) 281-4854
www.leverage2market.com