This week, I am in Bennington, Vermont, for my annual visit to Sonata Piano Camp.
This is normally a great time to get away from everything going on in the world and just focus on learning and playing great piano music. But this year feels different.
There's the ongoing war in Israel against the Hamas terrorists, which has now triggered backlash against not just Israel but Jews around the world. Swastikas and graffiti have been painted on Jewish institutions across the US. A synagogue president was stabbed to death in Detroit last week, and a Jewish couple was attacked in Los Angeles by someone who targeted them specifically because he wanted to kill Jews (they survived).
Then, last night, a man armed with an automatic weapon and plenty of ammunition shot more than 30 people in nearby Maine, killing at least 18 of them. The suspect is still at large, so we don't know what precipitated his rage and his need to take multiple lives.
The House of Representatives finally chose a new speaker yesterday–after multiple candidates were nominated and withdrew, with much animosity and nastiness from members of their own party.
How did we get to this place? It seems much too easy to default to the need to attack those we don't like or don't agree with. We seem to have lost the ability to disagree amicably and move on with our lives. Social media amplifies this effect—allowing hatred and animosity to fester and breed.
We will never ever all agree on any major issue. But it would help us all if we could find a way to disagree without being disagreeable.
---
Check out our marketing leadership podcasts and the video trailer for my book, Marketing Above the Noise: Achieve Strategic Advantage with Marketing that Matters.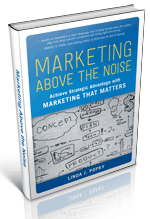 .
---
Let us help your business rise to the top.
linda@popky.com
(650) 281-4854
www.leverage2market.com